Welcome!
First Place Promotions and Awards is a full service appreciation
and promotions company, which supplies a complete range of
plaques, trophies, executive gifts, custom medallions,
recognition items, imprint apparel, custom embroidery,
and promotional products. Our goal is to help promote,
recognize, and/or honor individuals or groups to create
lasting impressions, and memoires with each of our
custom awards and products.
At First Place Promotions and Awards we believe
Achievement Deserves Recognition
Whether you are looking for a specific item or just surfing
around for ideas, this site is your one-stop shopping
source. From apparel to awards, we've got it all. Make
sure to browse around our site and take advantage of
our links to get an idea of exactly what you want.
After you've found what you're looking for, or if you still have
some questions, please contact us so we can assist you
in creating the perfect award or gift down to the
Featured Item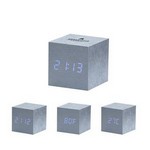 MoMA Alume Cube Clock
Designed by Natalie Sun, the Alume Cube Clock has a textured surface. Snap your fingers or tap the cube and the green LED display reveals the time, date and temperature and after a few seconds the dis...